This couple had a delightful, intimate home wedding at a parents' home in Virginia. As I've become accustomed to, when I first toured the home (in the snow!) the clients had one idea on how the event would flow, but I came up with an alternative idea that allowed us to save a lot of money on tenting and flooring. Despite the home being on a somewhat busy road, the landscaping was dense and mature enough for us to use the front yard for the ceremony without any disruption by passing cars.
We put together a great team for this one. Endless thanks to Heather Ryan for these beautiful photos. I've got them all credited at the bottom. Come back tomorrow for photos for the reception.
Most of the best visuals at a wedding is on the bride's side – the shoes, the jewelry, the dress, the bouquet. So when a wedding has two brides, you get double of all that goodness!
As you can see, this is an intimate Virginia home wedding – just count the chairs! Just kidding, I will tell you how many guests we had. We knew that we could accommodate a max of 48 guests at our dinner reception tables, so that is how many wedding guests we had!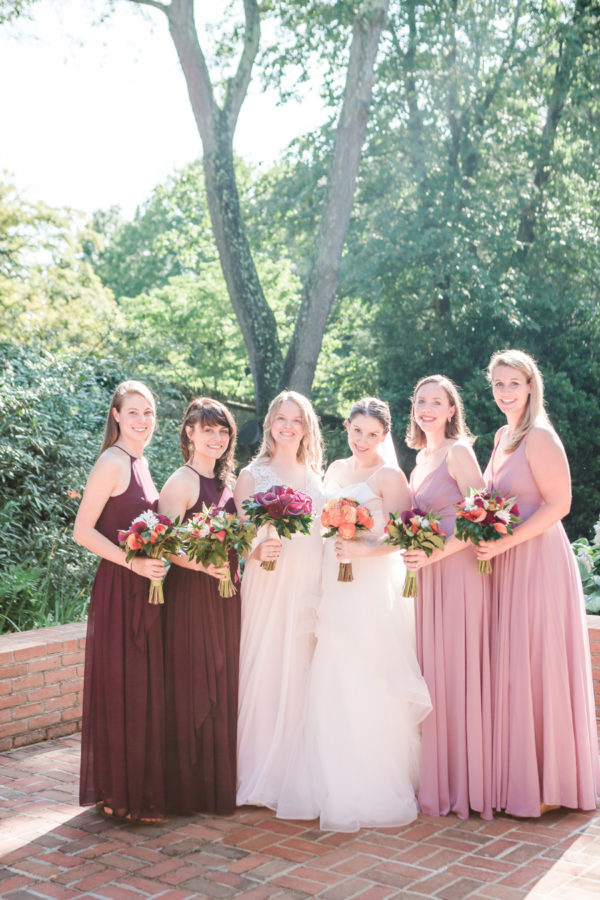 For the wedding ceremony, we set up the chairs and chuppah in the front yard. The chupppah was constructed by the couple and their parents, using bamboo from the back yard, tulle, and flowers from Growing Wild. An older sister was the officiant, and in addition to the 4 bridesmaids, we also had twin flower girls in the processional.
One of the brides has a Jewish heritage, so we incorporated some Jewish elements into the ceremony. For the end of the ceremony, both brides smashed the glass, to the delight of their guests.
One more shout out to Heather Ryan for all these awesome photos. Here are the rest of the great partners on this wedding team:
Tent, Lighting, Floor/Stage, Fans: Sugarplum // Catering: Main Event // Florals: Growing Wild // Hair and Make Up: Weddings by Sage // Band: Jackass Flats // Valet: MJ Valet // Drape: Drape Kings // Farm Tables: Elegant Momentz // Cake: Fancy Cakes by Leslie // Generator: Temp Power